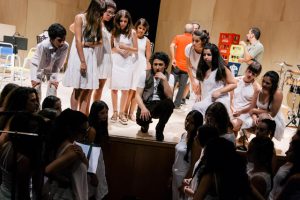 The Travellers Youth Choir was active until 2 years ago, in Chios. The choir made its come-back on the occasion of Lefteris Veniadis' musical theater performance entitled "George Souris NOW" that was staged in the Athens Concert Hall, within the context of the Athens & Epidaurus Festival 2016.
Now, the choir gathers again for the Chios Music Festival, having on board the youngest members that have, in the meantime, grown up.
This time, they join forces with the students of Chios Music School, having both the opportunity to gain experience through the collaboration with established musicians in a new platform of musical theater.