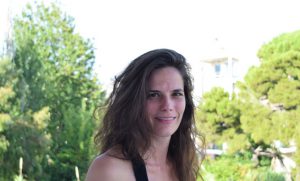 She was born in Patras, Greece. She studied Architecture at the University of Patras and continued her studies in stage design in Berlin (TU Berlin). While she was completing her Master she won the 1st prize for designing the Bücker Museum Berlin.
She lives in Berlin. She collaborated with various theaters and groups in Greece and Berlin such as Maxim Gorki Theater Berlin, TAK Theater Berlin, Theater Landungs brücken Frankfurt, Ithakt Group, Patras Municipal and Regional Theatre, the director Emilios Chilakis, the stage designer Konstantinos Zamanis.
She took part in group and individual painting and installation exhibitions in Greece and Berlin such as Bauakademie Berlin, Stattbad Wedding Berlin, Video Art Festival Athens.