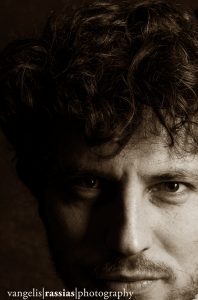 Orestis Goumenos was born in Athens in 1984 and his mother was from Chios. He studied French horn, piano and theory of music in Greece and continued in the Netherlands where he received a Master's degree and a Bachelor in composition at the Utrechts Conservatorium.
He composes contemporary music for orchestras, ensembles, and theatrical performances. He draws inspiration from the Greek tradition, pop culture and electronic sound.
His works have been presented in Greece and abroad by the Athens State Orchestra, the Orchestra of Colours, the Ensemble Modern Academy, the Gaudeamus Muziekweek Festival and others. He currently lives and works in Berlin.