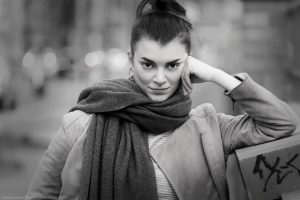 Born in Volos. In 2008 she received the diploma with Sylvia Tsimbakou from the Greek Conservatory of Piaeus. She has been a member of the Opera Studio of the National Opera for the years 2011-2013. She participated in the production of the childrens stage of ELS "The Shooted Cat" in the production of the Music Hall in collaboration with the La Fura del Baus group Mädchen des Mahagonny in the production of the Opera studio The National Opera "L'amante di tutte" as Dorina and the production of the Universität der Künste Berlin "Il viaggio a Reims" as Corinna. She has also sang in festivals such as the Infektion! Festival for Neues Musiktheater at the Werlcstatt der Staatsoper im Schiler Theater, the Smiley V Festival and the Mediterraneo Social Project in collaboration with Kleine Barockband and Syrian musicians. Her studies in classical singing contiiues with Juie Kaufmann in 2014 at the University of Arts in Berlin. She is a scholar of Paul Hiidemith Gesellschaft in Berlin, Deutschland Stipendium
and honored with the DAAD (Deutscher Akademischer Austauschdienst/ Deutscher Akademischer Austauschdienst) for 2015. She is a graduate of the Department of Theater Studies of the National and Kapodistrian University of
Athens, where she was co-founder of the Research Group of the National Academy of Sciences. In 2011 she wrote theater reviews for the onine magazine Camera-Stylo and in 2012 she was a member of the "100 Thousands of Poets for Change" movement.