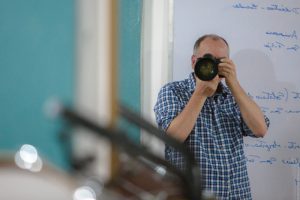 Andreas Knapp completed his studies in Linguistics and Literature with a scholarship at the Goethe University of Frankfurt, while since his youth he has been organizing concerts and artistic events. Among other projects, he has organized concerts and tours of Leonard Bernstein and Frank Zappa, for Ensemble Modern,  Hr-sinfonieorchester and Schleswig-Holstein-Festival. He collaborated with Salzburger Festspielen and Lucerne-Festival.
Since 2002 he is a personal consultant of Sir Simon Rattle at the Berlin Philharmonic Orchestra. Since 2013 he is a director of  "Neue Triebe" festival in Stöttham, Chiemsee, within the context of Oberbayerische Kulturtage. In parallel, as a photographer he captured moments from the tours, the concerts and the workshops in Australia, Asia, Europe, Africa and America. He was the Photography Producer for the movie "Trip to Asia" of the Berlin Philharmonic Orchestra and has organized activities for children and teens, such as Zukunft @BerlinPhilharmonie.
He dedicates much time in helping children and vulnerable social groups through music. For this reason, he participates in El Sistema. From 2008 to 2014, he captured with his photographic lens "St. Matthew' s Passion" by Peter Sellars in the Berlin Philharmonic Orchestra. His photos and his work have been published in many international media, including the New York Times and FAZ, while he has presented his exhibitions in Berlin, Vienna and Lucerne.